What are the Pépites de la Boulangerie ?
The "Pépites de la Boulangerie" awards are organized by Honoré Le Mag, in partnership with the FEB and the CEBP. Their purpose is to present the innovations of the year in the world of bakery-pastry-confectionery-restauration. At the end of the competition, not 1 but 15 trophies are awarded, along with other special prizes.
It is during this 3rd edition that Novepan's "Atypique baguette" won the prize in the "Food Products" category as a bread product, and joined the 2022 list of winners!
The "Atypique Baguette"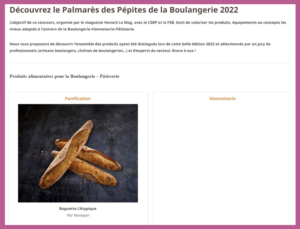 Launched in January 2022 under the Sud de France label, the "Atypical" baguette is distinguished by the use of durum wheat flour and liquid durum wheat leaven.
In addition to a unique taste signature, the use of durum wheat (both in flour and liquid leaven) provides the baguette with a hydrated dough, a developed honeycombing as well as good bread conservation.
Its strong points :
Hydrated dough (flour and liquid leaven of durum wheat)
Developed honeycomb
Baked in a stone oven
No preservatives
Unique gustatory signature and cream color
Made in France in the Occitanie region. French flour.