Airline companies have to deal with many constraints with regard to inflight catering.
The products must be compact and simple to use, in spite of the difficulties in airplanes due to a lack of space. Airline companies are also often required to serve all types of meals (breakfasts, lunches, snacks and dinners) on the same flight.
Novepan takes these constraints into account with its ranges of products, which are entirely made in France.
Meal formats adapted to every need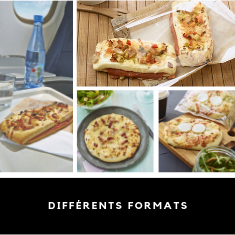 The meals are very different, regarding the product weights and types of recipe.
This is why Novepan supplies a variety of snack products.
We market products weighing from as little as 50g, to provide afternoon snack or breakfast format meals. Our options from 50 to 90g are ideal for snacks, either during a short flight or between two meals on longer flights.
For complete meals, we can provide 140 to 180g formats. For example, we have the Fozza, an individual dish that is a delicious combination of Italian pizza and traditional Focaccia. Or your choice could be an Individual Pizza, a classic solution that will satisfy everyone.
Recipes for all tastes and all eating times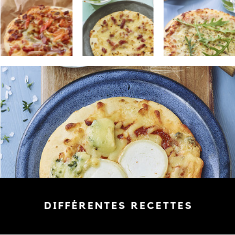 We also provide a range of recipes to suit all tastes and circumstances.
At Novepan, we feel it is important to offer a wide range within the same format. For this reason, we provide standard recipes with vegetarian, vegan or meat options. By widening the options available for the same product, we are able to increase the number of interested consumers. We also offer the possibility to create Halal or organic certified recipes.
We aim to create our recipes to suit different eating times. We have recipes that are fitting for either sweet or savoury breakfasts. In this manner, you will be able to provide a choice that satisfies different eating habits, notably to cater for the geographical origins of travellers. The sweet recipes are also an option for snacks in their 'Light Meals' format.
The added advantage at Novepan is the adaptability and customisation of our recipes. Thus, we provide standard recipes, but we are also able to rework them to fit your brand image! You just choose the product weight according to your needs, then modify the recipe as you wish. Our R&D team is available to discuss the creation of a unique product with you.