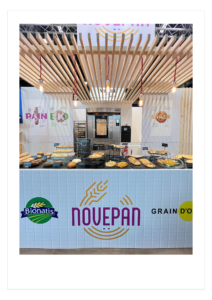 After four long years of absence due to the health context, the international food innovation trade show is back.
The theme chosen for this new edition was intended to be striking and meaningful: "Own the change": more than 7,000 exhibitors on 250,000m² and 160,000 visitors from nearly 200 countries around the world.
From October 15 to 19, 2022, food industry professionals from all over the world presented their innovations in response to current consumer trends and expectations: health (through simple recipes and choice of ingredients), ethics (in connection with sustainable development), satisfaction (through the pleasure provided by food) and digital technology (at the service of consumers).
The NOVEPAN team was pleased to present its innovations, its premium bread ranges, innovative snacking and world dough pieces.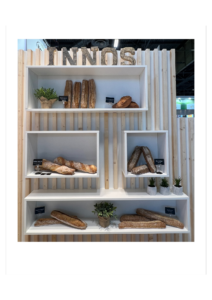 Not one but five innovations have been developed by our teams. Created with passion, carefully selected raw materials and attention paid to each step of the manufacturing process, discover our new premium breads:
Nordic Bread by Ateliers du Pain: this typical bread with a brown and creamy crumb has roasted cereal flavors and is distinguished by its soft crumb sprinkled with cereals and seeds.
Baguette campagne by Lubrano: the mixture of wheat and rye flours, and the presence of barley malt give this bread roasted aromatic notes, underlined by the natural flavors present thanks to the long fermentation of the dough.
Baguette quinoa by Lubrano: resulting from a long fermentation, characteristic of Lubrano, this bread presents inclusions of quinoa, linseed, pumpkin and sunflower.
Honey orange almonds bread BIO by Bionatis: beyond its original recipe, this bread presents a semi-airy and light crumb enhanced by the presence of honey, orange and almond inclusions.
Organic spelt baguette by Bionatis: scrupulously prepared thanks to the choice of ingredients, this bread is made from a mixture of organic wheat and spelt flours.