ANUGA, which we've been waiting for since its last edition in 2021, made its grand return from 7 to 11 October 2023 in Cologne, Germany. As the world's largest food and beverage exhibition, ANUGA is an essential platform for the global food industry! The 37th edition welcomed 140,000 visitors and 7,839 exhibitors from 200 countries, over an area of 300,000 m². Germany, Italy, France, the United States and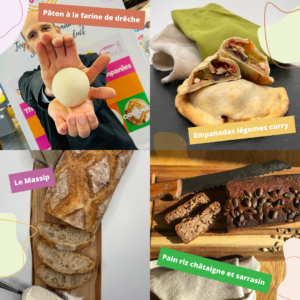 China were the most represented countries. Organic, vegan and gluten-free products were the most dynamic sectors.
The NOVEPAN team was delighted to see you again at ANUGA 2023. We were present at the Business France Pavilion, where we presented our latest innovations:
Empanada vegetables curry: This soft pastry filled with a mixture of vegetables, mozzarella, tomato sauce and curry is ideal for snacking with a format of 95g, and easy to take away.
Chestnut and buckwheat rice bread: Our organic chestnut and buckwheat rice bread is a delicious, healthy recipe that will delight fans of original flavours. Its 320g size makes it an ideal snack or light meal.
Massip: This generous loaf, perfect for sharing, is made with rye sourdough, giving it a unique flavour and unbeatable lightness. Its long shelf life makes it ideal for hotels, where it can be served as a breakfast bread.
Dough made with draff flour: Made from a beer co-product, this innovative and tasty preparation is a source of fibre and protein, making it a healthy and tasty product.
Our team was in top form, as you can see from this video, which you can find on our LinkedIn page!