At Novepan, in February, we set up the month of health at work.
Each week, a different theme was addressed through written or video material sent to employees at all our sites in order to inform and raise awareness among our teams.
Prevention of musculoskeletal disorders (MSD)
Posters and quizzes on MSDs: with focuses on the definition of an MSD, the carrying of heavy loads and the Activ'Dos application, they inform employees about this unavoidable subject in the industrial field.
Posters and videos on stretching in the office and in production: the sheet clearly summarises the stretches to be carried out to relieve the body, and the video support explains and gives an example for optimal implementation.
Posters on stress management and screen work: hung in the offices, each subject is accompanied by advice, enabling everyone to learn how to better manage their stress and adopt the right postures.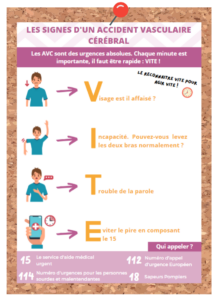 Shift work
Slide show "Working shifts": displayed on the screens of the different sites and visible to all, it highlights figures and advice for shift workers.
Sleep, how does it work? brochure: sent to each employee and made available in break rooms and offices, it highlights sleep, the dangers of drowsiness and the benefits of napping, while providing recommendations for a regular and restorative sleep pattern.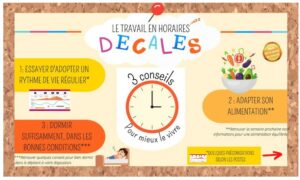 Healthy living and sports activity
Posters on good practices for a healthy lifestyle: explains what is an effective physical activity and a balanced diet, with recommendations.
Slide show on the company health insurance scheme: presents general information on the health service offered by the company.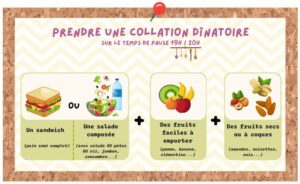 Prevention of cardiovascular risks
Signs of a stroke" poster: this flyer, to be displayed in the office, summarises the signs of a stroke in a quick and easy way so that each employee can react quickly.
Slide show on cardiovascular risks: provides general information such as definitions, figures and global recommendations to reduce risks.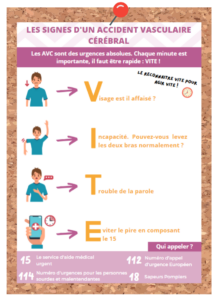 At the end of the 4 weeks, we combined the useful with the pleasant by offering each of our employees a bento that will allow them to prepare healthy meals for their lunch breaks. Various simple and healthy recipes were provided to accompany these bentos and inspire our employees.