Did you know?
320 is the number of baguettes sold every second in France. Baguettes are an essential part of French people's daily diet, and the figures bear this out, with 75% of them claiming to eat them every day. And we're well aware of this craze.
That's why Novepan offers you a range of baguettes in different shapes and flavours, all based on unique know-how and made with carefully selected raw materials.
Ateliers du Pain
Created in 2013 in Montans, Ateliers du Pain stands out from the crowd thanks to its high hydration and long fermentation, which bring out the delicate flavours.
The secret of their premium breads lies in the attention paid to each stage of production and the use of selected raw materials that give the bread an airy, shiny and tasty crumb.
The quinoa baguette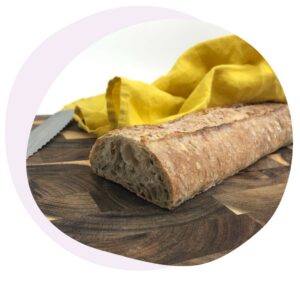 Discover the quinoa baguette by Ateliers du Pain :
High hydration: for better conservation.
Long fermentation: develops intrinsic aromas and brings delicate flavours to the bread.
Pre-baking on a stone hearth: gives our products a crisp, caramelised crust.
Seeds: flax, sunflower, puffed quinoa and squash.
French production: Occitanie region.
Unique product: the malty colour of the crumb, the gourmet taste of buckwheat and rye, combined with the inclusion of seeds, make this product unique.