Our Packaging offer
At Novepan, we offer you turnkey products. And for us, it starts with a 100% custom product, and ends with packaging tailored to your needs.
That is why we offer you different packaging models to be able to best suit your needs, and the chosen product.
Bread Packaging
Novepan can create for you a package that fit to your bread, and 100% custom. Our goal is that it's perfectly shaped to your bread (baguette, paves..), and enhance the product.
The transparent windows are often praised , in order to show the product. The objective of Novepan, is to highlight it, but also your Brand. We therefore propose you to create a unique design, that reflect you, and that corresponds to your needs.
Pizza Packaging
Frozen pizza dough are often considered as a product intended only for professionals,. However, the pizza dough has a clientele in hypermarket and supermarket. So we offer you to pack the pizza dough(s) in a flow pack designed for frozen products, in order to sell them right to the consumer.
Snacking Packaging
Paper bag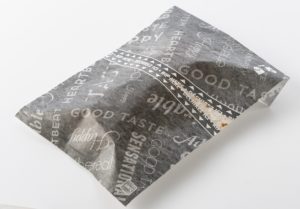 The paper bag is a packaging that is envelope shaped. We deliver the products already packed in the paper bag. You just have to finish cooking, and put serve it. This sealed packaging ensures a better preservation of the heat, texture, and therefore, the taste of the product. To facilitate the consumption, it has an easy opening, which allows the consumer to easily open the package for tasting.
Oven Flow Pack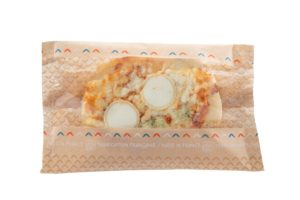 The Flow pack oven is a packaging system for which we received the Snacking d'Or Award 2019 in the "product concept" category.
This packaging is composed of a window that allows the customer to have a visibility of the product. It has a sober and premium design that shows French know-how. However, we leave you all the possibilities to customs its appearance to draw it in the colors of your company.
Its format is adapted to all our snacking products, and thus adapts to our entire offer.
So you receive it already packed, just finish cooking in the package, because it is oven and microwave resistant, and it is ready for consumption. This saves you time in applicatipon, and its anti-grease treatment makes it possible not to let spot appear despite cooking.
Bag + Label
We also suggest to provide you the appropriate labels for your snacking. We produce for you the list of ingredients, including the information required by the mandatory regulations (ingredients, nutritional values, bar code..). So all you have to do is apply them to your packaging and place them on shelves.