Innovation Flowpack – Snacking d'Or 2019
Snacking products are very fashionable, but they  face many constraints. The packaging need to be easy to carry, suitable to heat stress, but still tempt the consumer and instigate his/her greed.
To face theses constraints, at Novepan, we have developed the flowpack packaging. A single serve container for our transportable snacks. This one is fitted with a window, which allow the sight of the product, thus develop the appetize of the consumer. The container also has a sober and premium graphic, highlighting the French manufacturing.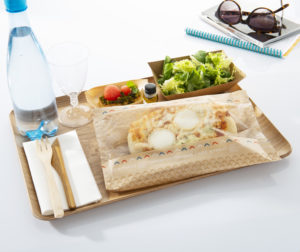 Beyond aesthetics, the flow pack is also oven- and microwave-resistant. This kind of packaging allows you to finish the cook and reheat the snack right from the original packaging. The flow pack is treated anti-grease, so it does not show grease stains despite cooking. Its micro-openings prevent condensation during cooking and thus preserve the texture of the snack.
The flowpack is therefore the greatest packaging method for out-of-home catering, especially airline catering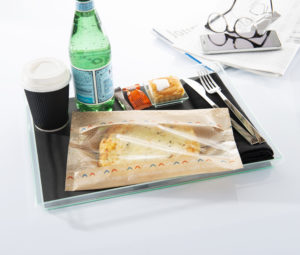 Thanks to theses innovations, we were rewarded from  the "Snacking d'Or 2019"  for flowpack packaging in the product concept category.
An award that rewards fast and transportable food suppliers each year.